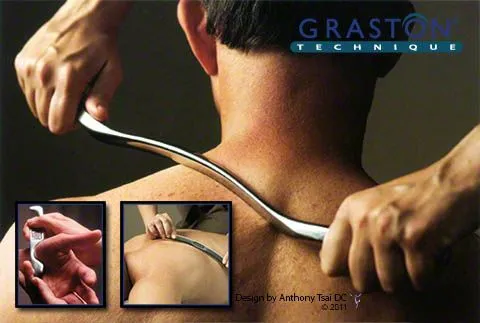 Graston Technique Image by Anthony Tsai, DC with photos courtesy of Graston Technique
You may have to cut and paste the news links into your browser's address bar

March 26, 2014
ACAToday.org
Rehabilitation services at AL!VE now include the World-Class Graston Technique® at Hayes Green Beach Memorial Hospital
by kiss1850

September 1, 2013
ACA News
Instrument Assisted Soft Tissue Mobilization
by Caitlin Lukacs

June 1, 2013
ACAToday.org
Jumping Into Sports: Ted Forcum, DC Interview
by Caitlin Lukacs

May 9, 2013
TheAlternativePress.com
AmeriCare Physical Therapy: Living With Scleroderma
by Susan Rele

March 10, 2013
MMAJunkie.com
UFC's Joe Lauzon recovering from substantial scar tissue, targets summer return
by Dann Stupp

February 28, 2013
YouTube.com
Dr. Warren Hammer's Perspective on GT
by GTMarketing100

December 18, 2012
SullivanChiro.net
Graston Technique Testimonial with Severe Ankle Sprain
by Dr. Joe Jaime DC

November 28, 2012
KTVB.com
Healthy Idaho - Dr. Nate Spangler interview about Graston Technique
by Carolyn Holly

October 5, 2012
News4Jax.com
Graston Technique used by Sam Kouvaris & orthopedic surgeon
by Sam Kouvaris

July 6, 2012
Details.com
Michael Phelps Training Secrets Interview
by Selene Yeager

June 17, 2012
Yahoo.com
Marysville Chiropractor Uses Graston Technique for Enhanced Pain Relief
by GlobeNewswire

June 11, 2012
Twitter
Michael Phelps Tweet on his offical Twitter account
by Michael Phelps

June 7, 2012
YouTube
Graston Technique demonstration on tennis elbow / lateral epicondylitis
by Dr. Jonathan Wilhelm DC

June 5, 2012
BristolCountyChiropractor.com
Dr. Brian Petrie and the Graston Technique for Athletic Injuries
by Dr. Brian Petrie DC

June 5, 2012
ToledoBizConnectTV.com
Healthy Hints for Harmony: The Graston Technique
by Dr. Bryan D. Royer DC

June 1, 2012
KTVB.com
Healthy Idaho - Graston Technique
by KTVB staff

May 2, 2012
Kinetic Sports Rehab Blog
Graston Technique in Seattle for Rotator Cuff Tendinosis
by Kinetic Sports Rehab

March 26, 2012
Calgary Herald
Achilles Injuries, Part 2: Paratenonitis and Non-Insertional Achilles Injuries
by Jari Love, Calgary Herald

May 3, 2012
Dynamic Chiropractic, Vol. 30, Issue 07
Graston Technique effectively treats scar tissue
by Jari Love, Calgary Herald

March 26, 2012
Dynamic Chiropractic, Vol. 30, Issue 07
Achilles Injuries, Part 2: Paratenonitis and Non-Insertional Achilles Injuries
by Thomas Michaud, DC

March 14, 2012
Athletic Edge Sports Medicine
Follow the Road to Recovery
by Tania Haas

March 9, 2012
MDNews.com
A Therapy for Every Injury at OrthoCarolina
by MDNews

February 27, 2012
Indiana State University
Professor, students expand rehab services at free clinic
by ISU Communications and Marketing Staff

December 1, 2011
The Edge
Lymphedema Successfully Treated With GT, Lymphedema S/P Mastectomy, capsular contracture S/P breast augmentation
by Justine DeLuccio, PT, MS, OCS, FAAOMPT

November 7, 2011
The Vancouver Sun
Healing the pain of plantar fasciitis: Eliminating barefoot activity, physio, splints all help ease discomfort
by Claire Young, PostMedia News

November 4, 2011
Dynamic Chiropractic
Thoracolumbar Junction or Superior Cluneal Nerve Entrapment Syndrome: A Hidden Source of Low Back & Pelvic Pain
by Marc Heller, DC

October 25, 2011
Graston Technique
M1-Basic Training at the U.S. Olympic Training Center in Colorado
by GrastonTechnique.com

October 2, 2011
WiseGeek.com
Brief and Straightforward Guide: What is Graston Technique?
by Dan Harkins

September 26, 2011
NJ.com
TCNJ alumna to represent Italy in 2012 Olympics
by Samantha Costa of The Times

September 8, 2011
Courier-Journal.com
Hurt so good?
by Jessie Halladay

July 1, 2011
Dynamic Chiropractic
It's the Fascia, Stupid
by Warren Hammer, MS, DC, DABCO
What Is Low-Force Chiropractic? Palpation, Adjusting and Soft-Tissue Applications
by Marc Heller, DC

June 30, 2011
The Bulletin
Graston Technique: Soft tissue therapy breaks up scar tissue and adhesions
by Anne Aurand

June 27, 2011
The Mercury
Physical therapy treatment of shoulder and elbow injuries in the baseball or softball player
by John R. Mishock, PT, DPT, DC, Mishock Physical Therapy

June 26, 2011
The Standard Speaker
Sugarman following mentor into HA Hall of Fame
by the editor of StandardSpeaker.com

June 22, 2011
ABC: Nebraska.tv
Graston Technique introduction & demonstration by Dr. Blaha DC
by NTV Good Live

June 11, 2011
RxMuscle.com
Bodybuilder Medicine, Vol 6: Alternative Treatments for Musculoskeletal issues
by Tony F. Human, D.O.

June 8, 2011
The Globe and Mail
You can exercise around nagging injuries
by Celia Milne

May 20, 2011
SportsMedInfo.net
Graston Technique and Tennis Elbow
by Dr. James Devine

April 2011
Train-Conditioning.com
Triple Trouble
by Maria Hutsick
http://www.training-conditioning.com/2011/04/11/triple_trouble/index.php
March 2011
Train-Conditioning.com
Back on Track
by Elisha Cusumano
http://www.training-conditioning.com/2011/03/21/back_on_track/index.php

February 18, 2011
CyclingNews.com:
Cyclingnews Fitness Q&A - February 18, 2011
by David Fleckenstein, MPT, OCS

January 24, 2011
MikeReinold.com:
Graston Technique: A Case Study and Other Thoughts on Instrument Assisted Soft Tissue Mobilization Techniques
By Eric Schoenberg, MSPT, CSCS

January 6, 2011
Wausau Daily Herald:
Crash leads to chiropractic career
By Amy Ryan
January 4, 2011
ABC KGO 7:
Graston Technique now used for breast cancer treatment
by Carolyn Johnson

December 10, 2010
GreenBayPressGazette.com:
Are injuries behind Green Bay Packers outside linebacker Clay Matthews reduced sack numbers?
By PackerNews.com's Pete Dougherty

December 6, 2010
Ohio.com:
Y members give new center a test run
by Beacon journalist Jim Carney
October 27, 2010
New Orleans Hornets:
Hornets Name Jon Ishop Head Trainer who is GT Certified
by NBA.com staff

October 25, 2010
PottsTown's The Mercury:
A treatment option for carpal tunnel syndrome
by John R. Mishock, PT, DPT, DC
September 2, 2010
Spine-Health.com:
The Graston Technique: An Instrument Assisted Soft Tissue Manual Therapy for Back Pain
Thomas E. Hyde, DC, DACBSP, CKTP, FCCSS (Hon)

August 19, 2010
Trek ExplorersWeb:
The Pioneer's Checkpoint interview with Sean Burch
by ExWeb staff
http://explorersweb.com/trek/news.php?id=19595

August 16, 2010
Edmonton Journal
Patients left bruised, but grateful: Say chiropractic tool technique brings relief
by Jodie Sinnema

July 1, 2010
PT Talker:
Could Instrument Assisted Soft Tissue Mobilization Benefit Your Practice?
by Jeff Worrell
http://pttalker.com/2010/07/how-physical-therapists-use-tools-for-soft-tissue-mobilization/
June 16, 2010
SCnow.com:
Carolinas Hospital System offers various outpatient rehab programs
by Nicole Boone
http://www2.scnow.com/lifestyles/2010/jun/16/carolinas_hospital_system_offers_various_outpatien-ar-528028/

June 3, 2010
Silive.com:
A master at connective tissue issues
by Marjorie Hack

June 1, 2010
PT Talker:
Physical Therapy Instruments Serve as an Extension of the Hands
by Jeff Worrell
http://pttalker.com/2010/06/physical-therapy-instruments-serve-as-an-extension-of-the-hands/
June 1, 2010
Elle.com:
Hands-On Healing: Why Women are Turning to Manual Therapy
by Joseph Hooper
http://www.elle.com/Beauty/Health-Fitness/Hands-On-Healing-Why-Women-are-Turning-to-Manual-Therapy

May 27, 2010
ABC KGO 7:
Bay Area doctors and therapists use Medieval-like tool used to relieve chronic pain
by Carolyn Johnson

May 14, 2010
LoHud.com:
Baseball notebook: Mount Vernon swings over to wood
by Jake Thomases

April 30, 2010
myCentralJersey:
Josh Pressley, Matt Hagen spent offseason recovering from injuries
by Ryan Dunleavy

March 2010
Chiropractic Economics:
Becoming a sports chiropractor
by Jasper Sidhu, DC

February 11, 2010
NJ.com:
A Warren sports therapist takes a busman's holiday at the Olympics
by Amanda Peterka / Messenger Gazette
http://www.nj.com/independentpress/index.ssf/2010/02/a_warren_sports_therapist_take.html
February 1, 2010
LivingstonDaily.com:
Alternative care has fans, foes
by Frank Konkel

January 20, 2010
NJ.com:
Local sports therapist readies for Olympic experience of a lifetime
by Amanda Peterka / Messenger-Gazette

January 14, 2010
Dynamic Chiropractic - Vol. 28, Issue 02
Marc's Most Missed Clinical Findings for the Lower Back
by Mark Heller, DC

January 6, 2010
WNDU 16:
New massage therapy technique helping local breast cancer patients
by Maureen McFadden

December 20, 2009
Wilton Villager:
Norwalk chiropractor Hammer speaks at conference
by The Hour Publishing staff

December 2, 2009
Dynamic Chiropractic: Vol. 27, Issue 25
The Iliopsoas: A Possible Cause of Acetabular Labrum Tear
by Warren Hammer, MS, DC, DABCO

November 10, 2009
Dynamic Chiropractic: Vol 25 Number 4
Parker College Doctor Treats Colombian Archers at World Championships
by Dynamic Chiropractic staff

October 26, 2009
Pottstown's The Mercury:
Physical Therapy- The first choice for muscle and tendon injuries
by John R. Mishock, DC, MPT, Mishock Physical Therapy

October 21, 2009
Dynamic Chiropractic - October 21, 2009, Vol. 27, Issue 22
Common Clinical Patterns in the Middle and Lower Cervical Spine
by Marc Heller, DC

September 9, 2009
Dynamic Chiropractic - September 9, 2009, Vol. 27, Issue 19
Movement Heals
by Warren Hammer, MS, DC, DABCO

July 16, 2009
The Hour:
Improving range of motion in breast cancer survivors
by Chris Bosak

May 25, 2009
The Mercury:
Low back pain: What really works based on the research
by John R. Mishock, DC, MPT, Mishock Physical Therapy

May 4, 2009
WCBD TV:
Medical Technology: Graston Therapy
by Carolyn Murray

May 1, 2009
WKOW ABC 27:
Deep massage helps relieve muscle pain
by WKOW Staff

May 1, 2009
WSOC-TV 9:
Fascia and scarring
by WSCOC Staff

April 22, 2009
Dynamic Chiropractic - April 22, 2009, Vol. 27, Issue 09
Manual Loading for Lateral Epicondylopathy
by Warren Hammer, MS, DC, DABCO

February 27, 2009
KPTV.com Fox 12:
No Pain, No Gain: Dr. Phillip Snell's Chiropractic Magic
by Becky Moore

February 22, 2009
The Mercury:
Sacroiliac Joint Dysfunction: A common cause of low back pain?
by John R. Mishock, DC, MPT, Mishock Physical Therapy

January 29, 2009
KFYR-TV:
Tough Massage for results
by Anne Kelly

January 15, 2009
Wilmington News Journal:
Chiropractic treatment indispensable for soft tissue injuries
by Christopher D. Stromberg B.S., M.Ed., M.Ed., D.C.

November 25, 2008
TBO.com:
This massage method produces results
by Mary Shedden

October 1, 2008
Experience Life Magazine:
Instruments of Change
by Jenny Liu

June 24, 2008
NBC 2 New York:
Hi-Tech Hand Injuries
by Dr. Holly Phillips MD

March 21, 2008
WABC-TV New York:
The Graston Technique to ease pain
by Dr. Jay Adlersberg MD

March 17, 2008
ABC6 TY:
Graston Technique helps chronic pains
by Lisa Thomas-Laury

February 10, 2008
SILive.com:
Dr. Frank Mandarino demonstrates the Graston Technique
by Michael McWeeney

October 2007
Biomechanics Journal:
MCL injury massage
by Mike Ploski, PT, ATC, OCS

August 2007
Biomechanics Journal:
Plantar Fasciitis treatment
by Mike Ploski, PT, ATC, OCS

October 25, 2006
IndyChannel.com 6 News:
Graston Technique helps athletes get back into the game
by Stacia Matthews

April 4, 2005
Spine-Health & Back Pain Radio
Exercise Balls, Home Gym Equipment and the Graston Technique
Grant Cooper, MD interviewing Thomas E. Hyde, DC, DACBSP, CKTP, FCCSS (Hon)

October 2002
The American Chiropractor:
The Graston Technique: Changing the Treatment of Soft Tissue Injuries
by Karen Wilczewski
---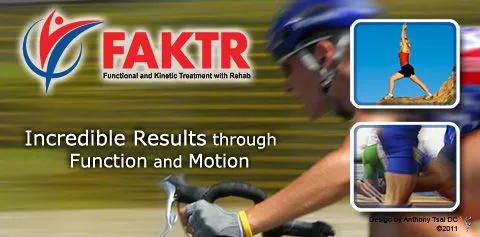 FAKTR Image by Anthony Tsai, DC with photos courtesy of FAKTR.com

March 1, 2012
Chiropractic & Osteopathic College of Australasia Newsletter Vol 18, Number 1
Workshop Preview: Interview with Tom Hyde about FAKTR
by COCA staff

December 2, 2011
Dynamic Chiropractic
Experimental Exercises for Golfers See also Part 1
by Jeffrey Tucker, DC, DACRB

July 21, 2011:
MyRehabExercise Blog
Adding Movement to Manual Therapy With FAKTR
by Tom Hyde, DC and Greg Doerr, DC

July 7, 2011:
All Things Healing
Treatment of Injuries Using Functional and Kinetic Treatment with Rehab, Provocation and Motion or FAKTR-PM
by Thomas E. Hyde, DC, DACBSP, CSTI, FRCCSS (Hon), FICC

July 29, 2011
Dynamic Chiropractic
Fascial Manipulation
by Mark Heller, DC

The "Yips" When Putting May Be Due to Scar Tissue
by Warren Hammer, MS, DC, DABCO

August 26, 2011
Dynamic Chiropractic
The Fabulous Fibroblast
by Warren Hammer, MS, DC, DABCO

December 16, 2011
Dynamic Chiropractic
Peripheral Sensory Nerves: A Treatable Source of Pain?
by Marc Heller, DC


Disclaimer: All original artwork and content on this entire website are protected under law and require permission before any use. If there is an issue with any violation of use on this website, contact us and it will be resolved immediately. The top image is created by me using GT marketing stock photos and the layout design is protected. Please contact Graston Technique for the use of their stock photos.
Please refer to http://fairuse.stanford.edu/Co... for more information.

*Based on outcome studies & clinical experience, Graston Technique acheived quicker & better outcomes with acute & chronic conditions when compared to traditional therapies, and resolved injuries that have failed to respond to other therapies. For a reference for what this page is based on and more published articles, books and research reports, visit Graston Technique's website.

Articles are posted on this site for informational purposes. All opinions expressed in these articles are solely those of the particular author and do not necessarily represent the opinions of not necessarily the opinion of ChiroWorks Care Center, Dr. Anthony Tsai, its employees, Graston Technique providers or affiliates. Any opinions of the author on the site are or have been rendered based on scientific facts and/or anecdotal evidence, under certain conditions, and subject to certain assumptions, and may not and should not be used or relied upon for any other purpose, including but not limited to for use in or in connection with any legal proceeding. "ChiroWorks Care Center" trademark #3,675,522. All rights reserved.
This is my original design based on scanned photos with permissions for use from Graston Technique. I did everything I could think of to use this image on the web legally. Please don't use my image designs without my permission. Feel free to contact GT for their marketing stock photos.